JSC Grindeks Head of Labour Protection Division Viesturs Smeiss joined the team a little more than half a year ago. Viesturs has a long-standing experience in the field of labour protection at various companies in Latvia. In an interview, he talks about the importance of labour protection, sustainability, and environmental protection in modern businesses, as well as about the things planned in future for Grindeks.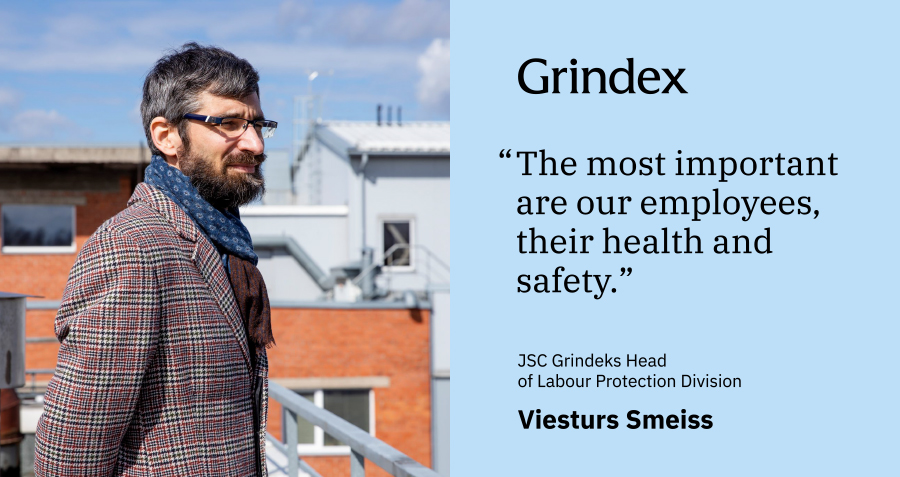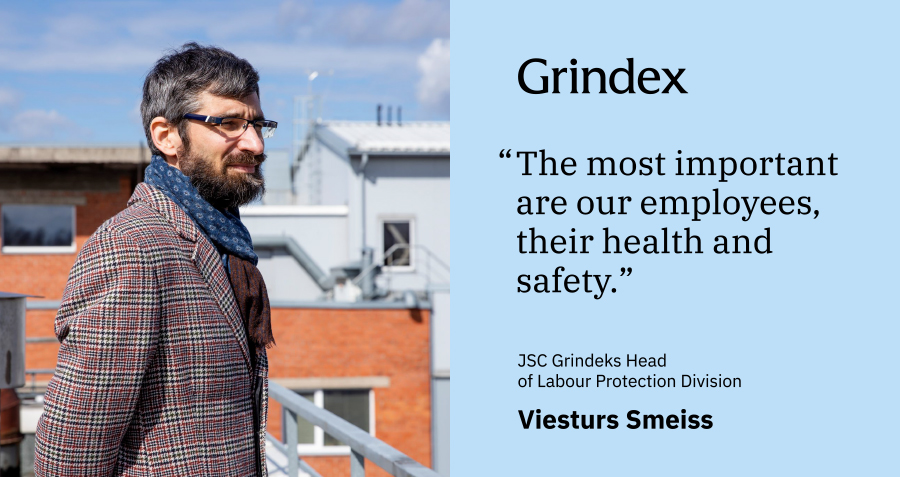 You're working on the Grindeks team from last October, tell me how these months have been in the company? What's your daily routine?
These six months have been very exciting, looking from different points of view – running a team, getting to know a company, identifying processes.
I devoted a lot of time to learn the information needed for everyday work and the amount that was and needs to be learned is huge. These months have gone by very quickly. It is clearly interesting and challenging. Daily work is carried out within a team with a wide variety of work tasks – labour protection, environmental issues, fire protection, civil protection and document development. As head of our unit, the main task for me is to organise the work of the company in these areas in the best way. Thus, achieving the objectives pursued, with confidence in hazard management and risk reduction.
You've previously worked in different companies, how does work in the pharmaceutical industry differ from previous experience?
Yes, different jobs in the labour protection sector have been various stages in my life, which has brought a lot of knowledge and experience, which is now, of course, allowing the results to be achieved more quickly. Cemex allowed a look at how an international company works and how a responsible approach to every job produces a good result. Putnu fabrika Kekava was an opportunity to grow and learn additional engineering, which is now useful for everyday work. Lielzeltini made me learn in a new sphere, which included radiation safety, which proved that you could learn and work with completely new things.
There are no such major differences, but pharmaceutical industry certainly has its own specifics. In fact, the main thing is to understand how labour protection works in each company and what is important and necessary for the business and for the achievement of the objectives. Then, as I say, everything happens!
Name three reasons why you chose to join the Grindeks team!
The challenge. New knowledge. Transfer of my experience.
Tell me briefly, what are the main areas for which the Labour protection division is responsible?
It is labour protection, it is environmental protection, it is certainly fire protection, including in the wider sense also explosion hazards, civil protection, as well as the preparation of safety data sheets and the registration of chemicals.
I can look deeper and deeper at these things. The environment goes along with sustainability, which is now very topical for any company, including Grindeks, and when dealing with these issues we also look at in this context.
How big of a role does the employees themselves play in labour protection?
I'd say the greatest. If an employee doesn't care about himself then he doesn't care about anyone. In this case, it is very difficult for the employer to take care of such an employee. It must be an instinct to preserve your health through the solutions given by your employer. I always ask myself a question, why do people like to do bad things for themselves? Pain, emotional and physical, long-healing scars, are a reminder often throughout my life – I try to understand this, because then it's easier for me to find a solution and fix it.
What is planned for the future?
We will continue our work and address new challenges. One such in the field of the environment is the amendment of category A of the environmental polluting activity permit according to the company's development plans and activities. In the labour protection the emphasis is on the understanding of labour protection and its need to improve through training. In fire safety, of course, a safe working environment.
What are the main cornerstones of the company's sustainable development?
The key to sustainability is to keep track of what is happening in the world and go along in technology, knowledge and solutions. Of course, we need to look at how a company can operate as effectively as possible in its production processes. Often, we look at the garbage and are prepared to throw it out, but for someone it can be a raw material. This is interesting, but sustainability has a broad range of directions.
Have you managed to turn some "garbage" into a useful raw material?
I mean, definitely, and not only one. For example, cardboard that goes into recycling. Similarly, various hazardous liquid waste turns into energy (heat, electricity, water heating) burned with appropriate technologies.
How often there are changes in labour protection requirements that affect Grindeks activities?
Labour protection legislation has not changed significantly for some time. The main challenge of labour protection is to be aware of potential risks and to work with them, including prevention (figures, their analysis and probability). We need to look more broadly, not just at the law. You can't write everything in it, and this is a stumbling stone for very many. In theory, there are things that the legislation does not require, but more important is the health and safety of the employee.
What are the current trends in the protection of labour and the environment in the world? What should we introduce?
Everything is developing in all directions: digitalisation, personal protective equipment, security equipment and training. The key is that it's all for employees so they can work in a safe working environment with as little risk as possible. Grindeks has started to change, gradually introducing even more safety in manufacturing, from international experience. My view is to continue the path we are going, which we will also do.
What are your hobbies in spare time?
If it can be called a hobby, then I love to teach. At this point, I have the opportunity to be a workshop lecturer in the field of labour protection at the RSU.
Of course, sports also have a place in spare time. I try to move regularly. In the winter, it's the skiing, and in the fall and spring it's bike and running. In the summer, it's work in the garden and woods. There's a time and space for a good book too.
Your wish to everyone.
Do what is most satisfying in life, both at work and outside work.