The right storage of chemicals, ingredients, and medicines cannot be underestimated for the pharmaceutical company. Storage management guarantees that the medicine will be stored as required, thus ensuring their quality. Storage management affects the company's efficiency and reduces the downtime of production. It is a vital stage in the production of medicines. Please, meet Kristians Vasiljevs, Production Warehouse Manager of Grindeks!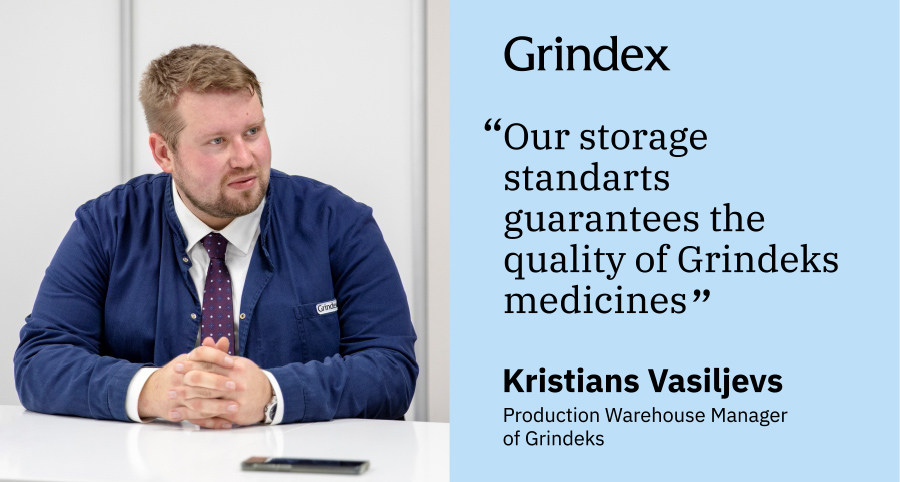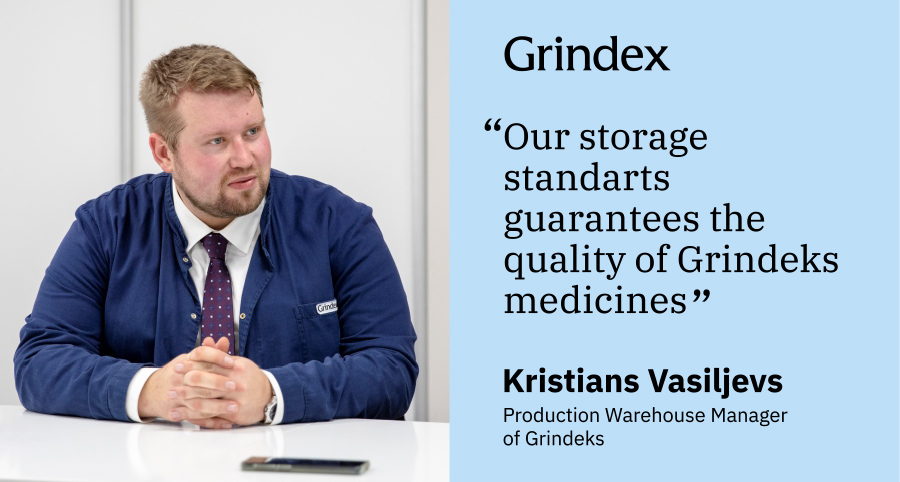 Specifics of storing raw materials for medicines
Kristians explains, that like any storage department, its management primarily provides the production with raw materials. Grindeks warehouse is no exception, but the pharmaceutical industry sets high standards when the warehouse provides production sites and laboratories with chemical ingredients and stores medicines after production.
"We can guarantee the quality of Grindeks medicines if we store ingredients accordingly to all the requirements specified by the manufacturer," describes Kristians, "and there are special requirements. We store raw materials in well-kept and controlled warehouses with specific safety regimes. As we store a very wide range of raw materials in our warehouses, it's often a challenge, but we are doing well! This is how we can be sure that Grindeks products are safe and there are no defects."
Teamwork is important
As a Manager of the production warehouse, Kristians emphasizes the importance of teamwork. "Every member of my team is important. I would even like to say that warehouse workers have no choice, but to work in a team. We work, learn and improve every day. Together we fight challenges, try to help each other, as well as other departments if we can," tells Kristians.
He also emphasizes the importance of empathy when organizing work for his team. "Our well-being affects our performance, so it's worth paying attention to sentiments of each member of the team every day."
The warehouse should become more effective
Kristians reveals that the company is working on innovations in the warehouse to become more efficient and reduce downtime.
"We live in an age of automation, drones, robot-pickers and automatic shelving systems have a future, and it's clear that one day we will introduce such innovations, but at the moment we emphasize revising processes. Productivity of production is directly connected with the performance of the warehouse. Its efficiency overall," tells Kristians, "We are evolving as a result of global trends. It's the result of implementing new software at the plant that has automated many processes and improved day-to-day operations and productivity."
Honesty is key for the professional growth
Kristians has been working in Grindeks for five years. Starting as a worker at the warehouse, now he is managing whole warehouse of production at Grindeks. He thinks that the people you work with daily play a big role in building your career.
"Colleagues are the ones who allow you to develop professionally. Also, the most important quality that, I think, is most important in any job, is honesty, because it is very difficult to work with people if they cannot be trusted," explains Kristians.
He also reveals that a year and a half ago he decided to grow professionally. "I felt that I could continue to have interest and motivation to learn new skills again. At the same time, I applied to the leadership school created by Grindeks, where I was also accepted," tells Kristians, "studies gave me motivation for professional growth. I really enjoyed studying at Grindeks New Leaders School, which gave me insights on the psychology of people, and gave me a chance to exchange experience with my colleagues, which is very important for successful day to day task completion."
Fisherman and guitarist at punk rock band
Professional responsibilities often give the impression of a colleague, but sometimes, when you find out what are the hobbies of a colleague, it makes you reconsider your perceptions of him. Kristian admits, he has two passions – fishing and playing guitar in a punk rock band.
"I remember myself catching fishes since my childhood. This is my hobby. I love being in nature. Currently, I am interested in carp fishing, because they are hard to catch, and it requires some degree of preparation beforehand. It's a big challenge to catch this fish," tells Kristians, adding that the biggest trophy, for now, is a 5 kg carp.
He also reveals that he has mastered the guitar on his own and is currently playing in a skate punk band called "Have no Heroes". "It is unfortunate there are limited opportunities to perform because of Covid-19. Our band has also cancelled concerts in Europe because of it, but this will end one day and we will be able to play again," Kristians is optimistic.