Head of Technical Department of JSC Grindeks Maris Rudzitis has been working here for a little over 5 months. This is already his second job experience at Grindeks, where he had previously worked from 1991 to 1999. In our story, Maris tells about the importance of improvements, technical development, environmental protection and the ambitious Grindeks Innovation centre project.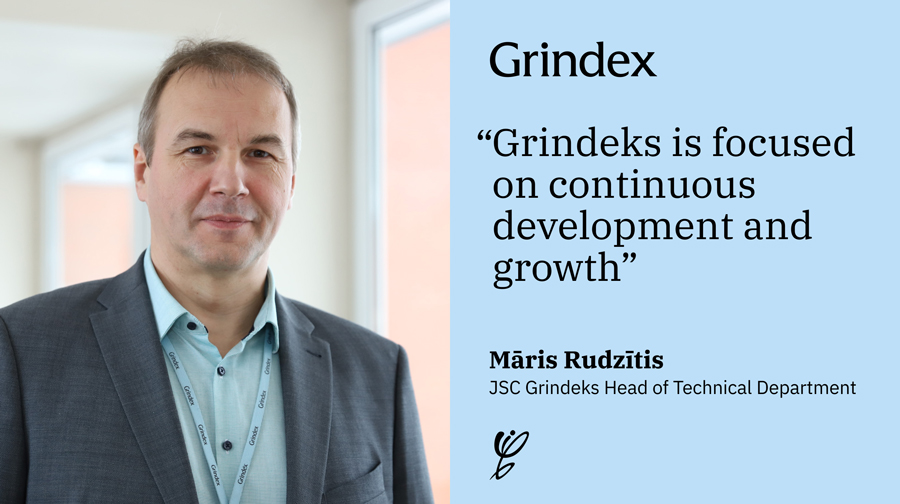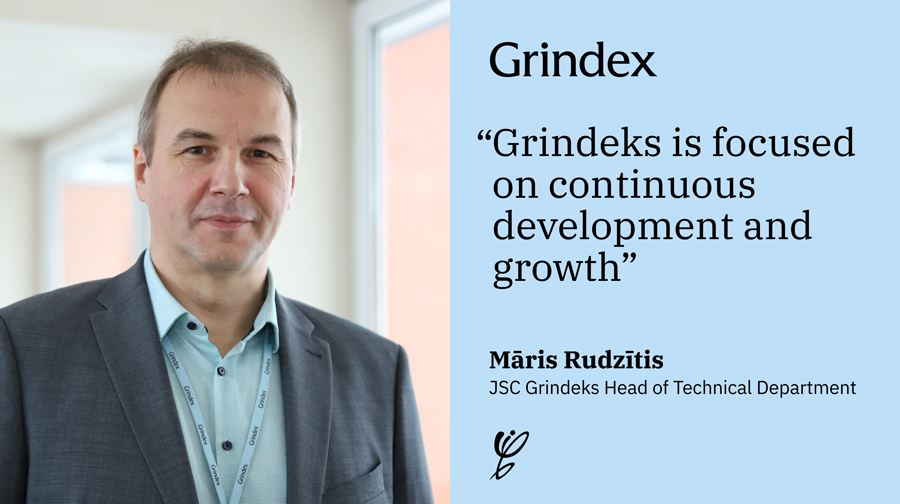 You've been the Head of the Technical Department for 5 months now, tell me how this work experience in Grindeks is different from previous jobs?
There are currently 92 employees at Grindeks Technical Department. It is a very large team that contributes greatly to the performance of the company. It is important to be able to communicate information and to put forward key job challenges. It could not be said that the differences between other companies are huge, but of course pharmaceutical production has its own specifics, which needs to be given increased attention.
This is your second experience working in Grindeks. Tell me what your past work experience from 1991 to 1999 was?
Then I started to work at Latvian Academy of Sciences Organic Synthesis Institute Experimental Plant. Very soon that became the company we know today – Grindeks. It was my first job after graduating from Riga Technical University, where I worked for eight years. At that time, there were very big changes at both company and national level, which had a very important impact on everyday life. The company developed rapidly, gaining invaluable experience over the years, which was an excellent basis for my future career.
What was your main motivation to become part of Grindeks team again?
Grindeks is one of the leading companies in Latvia, not only in the pharmaceutical industry but in general. The company is very focused on development and growth, which is very interesting to me professionally. When I found out about the ambitious construction project that will be the Grindeks Innovation Centre, I immediately realized that I wanted to be part of it. I expect a challenging and exciting job.
What has changed in the company in these years?
The company has developed in a variety of ways, particularly modern technology and automatics are essential to ensure high quality, sustainable performance and production. Of course, it is difficult to compare a company as it was 20 years ago and what it is now, but I can say Grindeks is following all trends and is constantly trying to improve infrastructure, working conditions and premises.
How much do you think the working environment matters?
It is very important because the environment in which the employee is working is the key. The environment must certainly be safe from different aspects, including fire safety and employee protection. In my opinion, a good working environment improves the efficiency of the work: it must be light and clean so that an employee can focus on the work as much as possible.
How does Grindeks care about protecting the environment at the moment and what is intended for the future?
The company has an energy efficiency programme, we follow the sorting of waste, emissions, the management of hazardous waste and the improvement of energy efficiency. A couple of years ago, boilers were replaced to reduce emissions and breathe cleaner air. All filtering and venting equipment is polluting the atmosphere much less. Work is ongoing on identifying the necessary sustainability processes in the future.
What is needed for successful and efficient management of the business from the point of view of the Technical Department?
In order to be able to manage the company effectively, there must be a professional, cohesive, efficient and willing team, if all these conditions are met, then it will also be possible to achieve the desired objectives and expectations.
Tell me in what is currently happening at the planned Grindeks Innovation Centre on Asotes Street 12?
All the dismantling work is currently completed, there is a vast and enclosed field. There is an intensive project development process, we have concluded an environmental impact assessment agreement, a contract on the design of electricity supply, and I would even say that most of the departments of Grindeks are involved in this very ambitious project.
What are your hobbies in spare time?
I like to travel very much. I prefer car travel – I design my own routes and organise a tour in them. I also likes physical activities, though they are a little more limited in winter, but in summer it is a rest on water or riding a bike.
Your wish to everyone.
At this difficult time, I wish everyone a great health and also to succeed in things what are planned for this year.