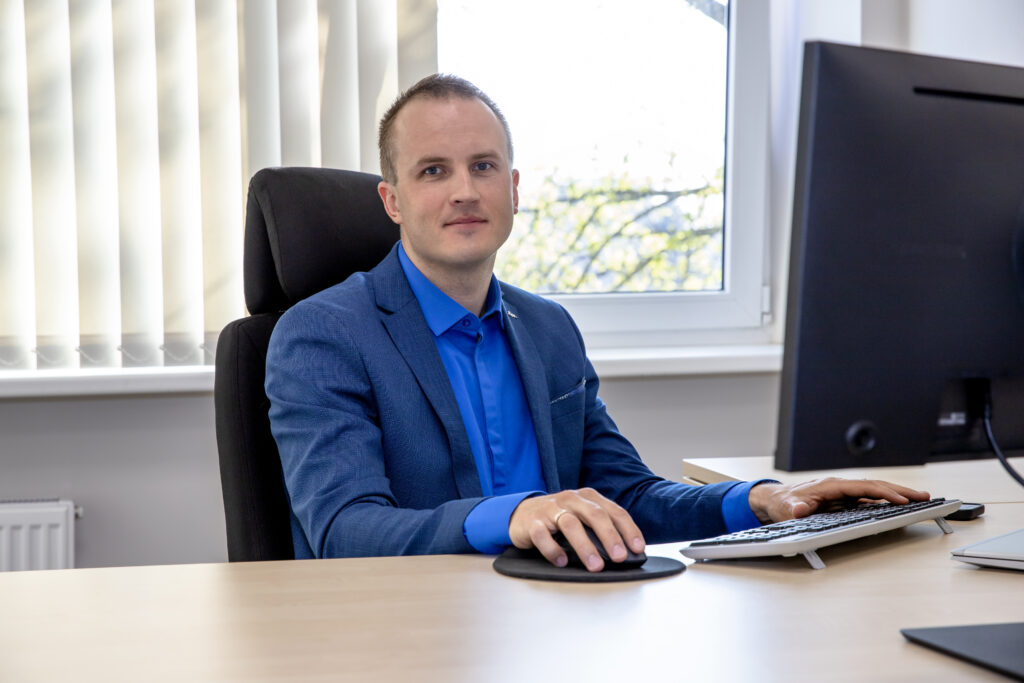 Tell us about your career at Grindeks! How long have you been working here, and what considerations prompted you to join the team?
Time flies, it seems like I joined just recently, but it will already be three years in the company by the end of summer. I joined the team because in my previous job, I had used all my potential, and we had already organized the entire IT sphere there. Something had to change, new challenges had to be accepted, and the IT field at Grindeks had to be improved.
What is the role of the IT department at Grindeks?
The main role is to provide the company with IT resources, infrastructure, and solutions that contribute to the achievement of the company's strategic objectives. In simpler terms, we have a support function with an enhanced innovative side. The main goal is to ensure that employees can fulfill their job responsibilities as effectively as possible. We search for innovative solutions and tools to make existing processes more efficient.
What are your job responsibilities and daily work? What are the main challenges?
The main task is to develop and select IT solutions and strategies. We create them in such a way that the solutions we choose now will work successfully even after 10 years, with the financial and human resources available to us. My daily work involves taking care of my team, the overall IT vision and strategy, as well as solving daily problem situations.
What is your biggest achievement while working at Grindeks?
I have managed to create an IT team that has a growth-oriented mindset. We have organized the main processes to fulfill our strategy and vision. We know where we are going and where we want to be. We have rapidly implemented several new systems, but I would like to highlight that we have transitioned all our daily work to a unified modern working environment using Microsoft's offered products.
It is known that Grindeks is gradually moving towards maximum process digitization, replacing paper format with digital tools, making complex processes simpler and more efficient through IT. What other innovations are expected to facilitate or improve the company's operations?
We are currently in the final stage of the first phase of the document management system "Namejs", which facilitates the circulation of all documents by transitioning from the outdated paper format to digital. During the summer, we plan to complete the digital training and the digital knowledge base system "SAP SuccessFactors LMS." We are planning to receive European funding this year for the implementation of the "SAP S/4HANA" enterprise resource planning software at Grindeks, as well as the transition to Grindeks.com across all Grindeks resources.
How could artificial intelligence develop in the pharmaceutical industry? What AI solutions are currently being used?
The potential of artificial intelligence is immeasurably huge right now! We are already starting to use AI chatbots in our daily work, which help us find answers to various specific and complex questions, assist in text creation, instructions, analyze various materials, and help us with system programming tasks, but this is just the beginning. In the pharmaceutical industry, there is an opportunity to analyze large amounts of data quickly in drug research and development, and perform analysis, find patterns, opportunities, and problems. For example, to find the best manufacturing method, it is possible to simulate long production processes in many different variations virtually, thereby reducing the number of processes performed. Quality control reaches a level where the quality of various things can be determined virtually and validated with simulations. It is possible to improve quality in production with various sensors, where artificial intelligence, by analyzing data in advance, detects any deviations or approaching deviations.
The possibilities are very significant, so we will establish a working group within the company that will work directly with the opportunities provided by artificial intelligence.
What is the most important aspect of leading a team? What qualities should a leader possess?
A leader should have a vision, be reliable, lead the team with strategic thinking, and be able to adapt to different situations.
What do you do outside of work? How do you spend your free time?
This year, there is no more free time due to the birth of triplets in my family. Previously, I played beach volleyball and engaged in outdoor activities such as kayaking, snowboarding, and fishing. Last year, I participated in an event in Croatia where I wore a wetsuit and moved along the river and cliffs without any helpy, and finally descended horizontally on a rope from a huge waterfall.
I can't help but ask, how is your large family doing? How are the little triplets growing?
Everything is going great for us. The children are growing, and the feeling is indescribable when they start to smile and recognize things. Sometimes they can be a bit difficult, but when I see their smiles, my heart melts, and life is simply beautiful.