Head of API Registration Group Tatjana Apsite has been a part of Grindeks team for more than 15 years. Registration of new active pharmaceutical ingredients (API) is one of development directions of Grindeks. In the interview Tatjana talks more about the registration process and everyday work at the company.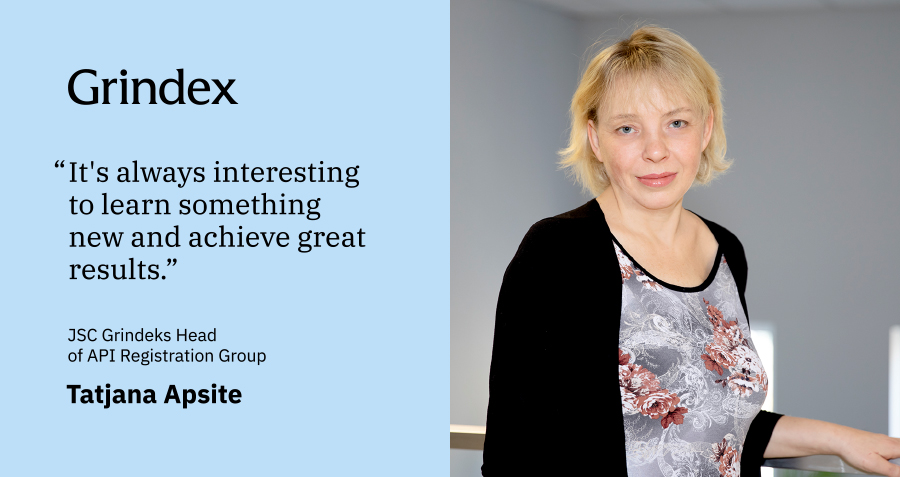 You've been working at Grindeks for over 15 years, tell me about your career path and growth in the company. What did you study before?
I started my work in 2007 as a chemist in the API analytical group, a year later I became the senior registration specialist of the API registration group and from 2010 I am the Head of the API registration group. I have obtained master's degrees in both physical chemistry and pedagogy. I graduated from the University of Latvia both times.
What is your daily work as head of the API registration group, which are the main responsibilities and challenges?
My main responsibilities are the preparation of the documentation required for the registration of API and the registration of products in cooperation with various departments.
It is also my duty to prepare all necessary documentation for the registration of APIs worldwide. Every day, I feel like the captain of a ship who steers it, from which the company is very much dependent to achieve the objectives of other business units and the development of the whole company.
I believe it is very important to be familiar with foreign law on the registration of API in different countries and to share this information and knowledge with your team. We need to follow the tasks assigned to other departments so that they are executed in a timely manner and that feedback can be readily obtained, seek solutions in complex and non-regulatory situations involving both the registration of Grindeks products and the extensive external cooperation.
I believe that in our dynamic rhythm time is money and it is very important to use it productively. A lot depends on the team. If there is a professional team and a good, knowledgeable, competent manager, the target should be easily achieved. It is only necessary to move forward without fear of problems.
As for the challenges, they are that each country has its own requirements and its own legislation. It's always interesting to learn and try something new and achieve the desired result. It's like a race where there's only one goal – to win, the prize is a registered API and a sequential sale of it.
How time-consuming work is API registration?
Getting the experience of registering APIs in other countries where it hasn't been done so far is very interesting and exciting. Registration of developed APIs is a time-consuming process, as there are new countries with their new requirements to expand our business. There is art in the documentation, because not everyone has the capacity to do it – work with documents and visualize how it can be implemented in real life.
How does registration of APIs happen, how is it different from the registration of final dosage forms?
Each country has its own requirements. We also provide customers from other countries buying APIs with Grindeks documentation. It is the most difficult thing, because every country, as I said, has its own requirements.
There are countries that require separate registration for the substance. There are countries where we cooperated with the registration of final dosage forms because it is not possible to register the API alone without it, only together.
What challenges do you face in the registration process?
To register a substance, for example, in Japan. Even in the registration process, the terminology needed to be met and translated into Japanese, to help a Japanese expert with explaining specific terms. You must use all possible translation programs to find the correct hieroglyph.
There was another interesting case where questions from the agency were received in Korean, of course the partner translated them, but to understand what the expert had thought of it, it had to take time to work with different translation programs. We were also successful in dealing with this task.
What do you think are the most important skills to become a registration specialist?
Competence in different areas, not only in registration, such as the API production process. Cooperation with other departments, persistence, which requires high stress resilience, so that any question raised can be resolved promptly and qualitatively.
Sometimes we receive questions that cannot be attributed to a particular department, and then you can only prepare a qualitative response by putting our heads together.
What are the things that give you the most pleasure and satisfaction in the day of work?
See the result of what has been done. The process may take a long time, even up to several years, until we register with the API, but when it has finally been registered, we are pleased to see what has been done. Of course, it's a huge teamwork, not just one group job.
How is cooperation with colleagues from other departments?
I say you can always ask questions and look for answers without hesitation. My knowledge belongs to work and only by sharing it, I can develop and use the knowledge. Accordingly, it is easier and faster to work with other colleagues because of the same understanding of the situation or task.
There are currently 36 new APIs in development, when could they come to registration?
We have already started the registration process of one API, another 2 are in the process. The second half of this year will be intense and exciting with new products. The goal is to start registration of 10 new substances. All forces are directed towards achieving goals.
What have you been doing in your spare time?
In my spare time, I do volunteer work that involves helping people in trouble. I love to see people's eyes when a spark appears and there is a desire to "live" rather than "exist".