Project Manager of Final Dosage Forms Regulatory Affairs Group at Grindeks Anna Zarova has been working in the company for 6 years. Registration of new products is one of Grindeks top priorities, Anna in this interview will talk more about Final Dosage Forms (FDF) registration, daily work, and her inspirations.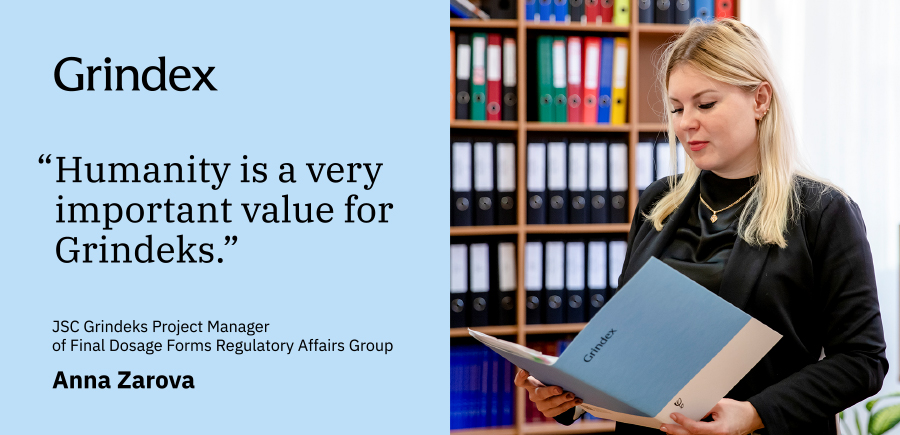 Tell me about your career in the company, how long have you been working at Grindeks?
Last year was my first major work anniversary, I was working for 5 years at Grindeks then. I started my career here in 2016 as Active Pharmaceutical Ingredient production operator of the manufacturing unit of the chemical production at the scaling station. As I worked there for a while, I joined the Registration department team, which I was very happy about and I am still working there now. At the beginning at the Registration department, I worked as the senior registration specialist for FDF's, and since 2020 I took the position of Project Manager of Final Dosage Forms Regulatory Affairs Group.
How did you decide to become a part of the Grindeks team?
A general interest in Grindeks emerged before 7 or 8 years. Becoming part of Grindeks was interesting for me because of the possibility of improving at professional level and realising my potential, becoming a recognised and appreciated teammate. Thanks to Grindeks, I have successfully implemented several ideas and, of course, I intend to do this in the future. After spending 6 years together, I can say safely, I'm in the right place where I can grow and develop.
What are the advantages of Grindeks as an employer?
Grindeks is a recognizable and highly valued company in the Latvian labour market, it demonstrates professionalism and high performance of product quality. Grindeks improves every year and is ready for challenges and is open to change if necessary. At the same time, as a part of our team, I feel how important humanity as a value is for Grindeks. In my opinion, a set of these qualities shows that Grindeks advantages as an employer are unquestionable.
How does the FDF registration happen, how it is different from API registration?
Registration of FDF shall take place in accordance with the legislative requirements of each country. It should be said that these registration law requirements tend to vary widely, not only in countries that are located on different sides of the world, but also in countries that are close to each other.
The difference between the registration of FDF and the registration of APIS is that the FDF registration file includes documentation for both API and FDF. In other words, the registration of API is the beginning and the registration of FDF is a continuation. We are working closely with API registration colleagues because it is not possible to register the finished formulation without substance.
What are the things that are common to both registration processes?
Similar cases in both registration processes are the registration activities and activities to be carried out. In both cases, there is the necessary active contact with colleagues, the development of new additional documentation or actualising existing documentation, the preparation of answers and other actions to satisfy the agency's requirements in general and to complete the registration successfully.
How time-consuming is the registration of FDF?
The process of preparing registration documentation for FDF requires a certain period of time. Preparation of the registration document starts from its development, a further process of matching and approving a document is being developed, when the document is approved, inserted into the registration file. Except as described, there are several other nuances. Without any details, I can say confidently that the job of registering finished formulations is very time-consuming.
What is the most satisfying thing in the day of work?
I am most happy about the positive human contact in the day of work. I like to participate in various discussions and to express ideas. I like to share my views and listen to other colleagues. I believe that full discussion contributes to a faster resolution of work issues and to improve working relations in general.
Name 3 things that inspire you to work!
Clearly the first thing that comes to my mind is the team. Daily, due to the specific nature of the work, I am actively involved in communication with colleagues from a number of business units. There are sometimes more complex issues and challenges, but together we have overcome all the difficulties and I am convinced that further our cooperation will only be more cohesive and more specific.
The other thing, the chance to learn something new all the time. As I mentioned, I see new challenges daily and engaged with great interest in a wide variety of business issues, in which I developed my knowledge and vision.
The third thing that inspires me to work is the work itself. I like to work, tackle, introduce something new. From it, a sense of captivity for reaching goals.
How is cooperation with other departments?
Cooperation with other departments is smooth and productive. The day-to-day work raises several easier or somewhat more difficult issues, but thanks to the willingness of colleagues and their readiness to help at the right moment, the issues raised are being resolved promptly. When dealing with issues as a team, together we develop our knowledge and develop new experience.
What are the most interesting things in your work?
I communicate with cooperation partners on the provision of registration documentation on issues. Mostly, they are producers of API, but I have occasionally developed communication on other issues. The collaborative partners I face are virtually from around the world, with a different mentality, different communication styles and moods. In almost all cases, dealing with the same issue with different partners is different and unpredictable. This seems very exciting thing to me.
What are your personal goals in the second half of the year?
My personal objectives are in line with the company's objectives: I am confident in company's ambitious plans. This year, 18 new products are scheduled to be filed for registration. We've successfully submitted the first product for registration in May, so we just move ahead and work hard!
What are you been doing in your spare time?
An approach to leisure activities with as much passion as work. With interest and great passion, I accept new challenges, and I am dealing with adventures, but I can probably name two things that excite me and try to incorporate myself into my everyday life outside my working time. The first is travel through Latvia. I am delighted by the nature of Latvia, forests, cultural objects, historic monuments, landscape views, the wealth of water bodies and their abundance. Every corner of Latvia has something to look at, feel and taste. Enjoy unprecedented feelings and gain physical and emotional satisfaction.
The other thing is reading books, giving priority to the literature of a psychological spectrum that contributes to the expansion of sight. Each book can be assimilated to a journey, as it is an opportunity to acquire new knowledge, to explore the unknown, to develop yourself and to use the acquired knowledge at work and in the home.