Elina Misina-Jubele is the Head of Quality Division at JSC Grindeks. She emphasizes the importance of quality aspect in the pharmaceutical industry, because it ensures that the medicines produced by Grindeks will bring the effect needed and will help to recover and heal from illnesses.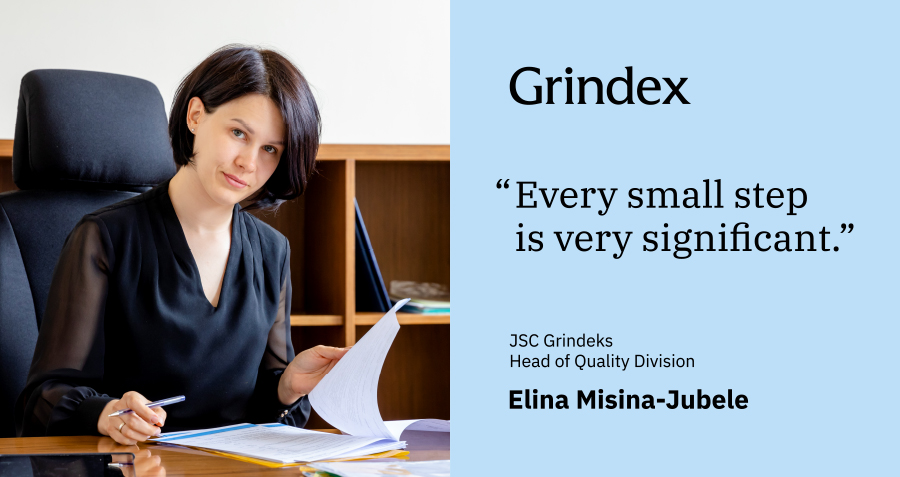 It also ensures that medicines are safe and effective. Quality is also a matter of the reputation of the company, since in the pharmaceutical field, deviations from the requirements of quality standards are not allowed. Work in quality field requires extensive knowledge, experience, enormous responsibility, and team coherence.
Look at this area from any angle, and it is absolutely clear that quality assurance is one of the most important aspects of the whole manufacturing process. "In our work, every small step is very significant. Every activity is governed by strict conditions and guidelines," says Elina Misina-Jubele, Head of Quality Division at JSC Grindeks. "Quality assurance in pharmaceuticals may seem too standardised for some, but it is a medicine that treats a patient and returns him or her health. Consequently, strict standards and requirements are an integral part of the pharmaceutical industry," she continues.
"Work is a work and, of course, there are situations or cases where we have to find a positive outcome," Elina says. The Quality division shall be involved in a variety of issues and, where appropriate, with colleagues from other departments, we shall seek out why deviations from the standard have occurred in a particular case, as well as work on solutions to prevent non-compliance. Then the closest cooperation is with production, purchasing, and the technical specialists.
Grindeks is evolving, the number of products is increasing, and the quality standards requirements are getting tougher, so the work in the Quality Division can never become a routine. When asked about the significant increase in the number of quality control analyses, Elina is proud of her division colleagues: "We are always able to mobilize. Most I appreciate that our team is always ready to look for and find a solution. I'm sure that the obstacles that have been overcome are bringing our team together. Our main inspiration is curiosity and desire to understand the nature of things. Our own demands for ourselves are high, but it must be like that for quality professionals," she says.
Students are also working in the Quality division, because Grindeks is a very encouraging company, allowing students to combine study and work. While it takes a long time, about a year while the team's newcomers can do their job permanently. Of course, there are also young specialists of excellence, shrewd and knowledgeable. The knowledge and practical application capacity of the current students of the colleges and universities un Latvia has gradually improved and we have more opportunities for them to join our team.