To improve our understanding about environmental issues we have share experience with colleagues as it is important for us as a team. This time Anastasia Konovalova, senior environment and labour protection specialist at Grindeks, explains the issues that are important for nature, what has been done and what is still to be done in the company Grindeks.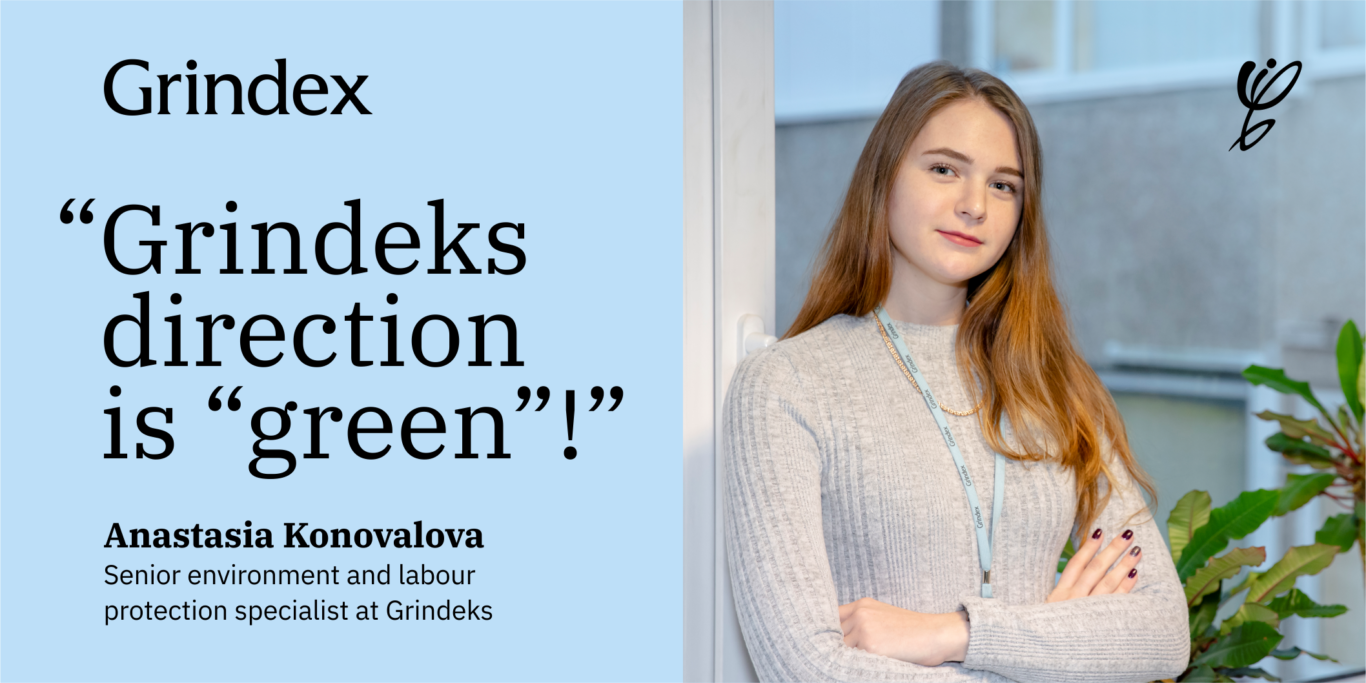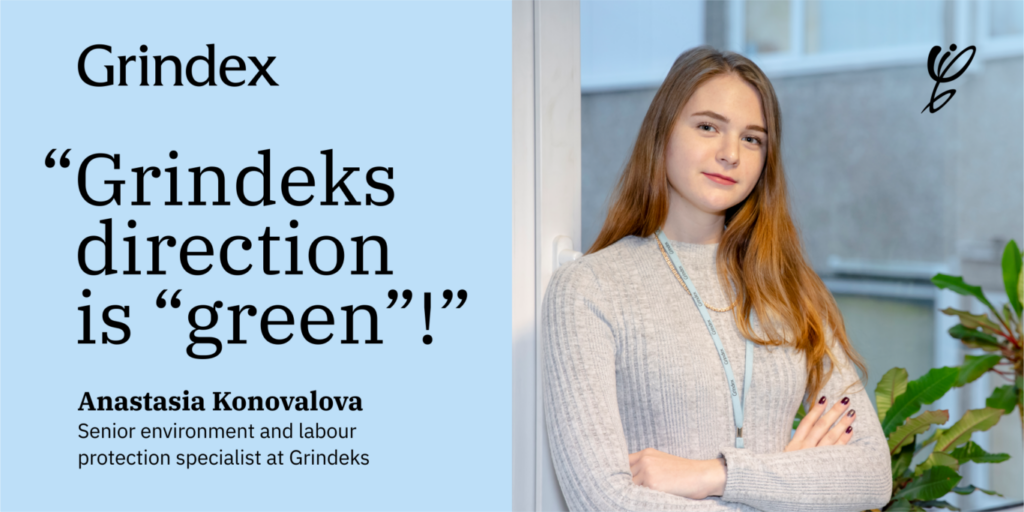 What are your daily duties as a specialist of environment and labour at Grindeks?
On the daily basis I work on projects to ensure ecological safety while reducing negative environmental impacts. My day-to-day responsibilities include various functions, for example, a large part of my work is spent to ensure that the company's operations comply with the requirements of "A Category pollution activity". At the same time, I control the storage and disposal of both household and environmental hazardous waste. Developing environmental documentation, which includes the development of draft emission limits related to emissions created during the production process, are also my responsibilities. It is very important to keep tracking the indicators that characterize the "state" of the environment. Collecting environmental monitoring data, so that we can follow the processes and ensure the well-being of the environment is vital.
How green is Grindeks, and how green do you think are we?
I think it is not only me, but a lot of people who have noticed that every year we transform become more and more "green". Grindeks cares about people's health by producing medicines, and at the same time demonstrates its determination to take care of the environment with real work, by being aware of the impact made as a manufacturing company. The scope of our company is related to pharmaceuticals and chemicals, but we are able to adapt, as we think about nature and look for the best environmentally friendly solutions that are more "greener". No doubt Grindeks direction is "green", as every year we organize and implement new projects that help reduce household and industrial waste. Here I would like to mention the message emphasized a while ago, quoting: "by 2025, Grindeks plans refuse the use of paper as such when speaking about documentation". It can be done by switching to digital solutions. Initiative and work in this case is everything.
Already today every Grindeks employee is trained in proper waste sorting. There are several containers in the company's territory, where employees have the opportunity to dispose the used electronics, batteries and accumulators, as well as waste drugs, which will then be handed over for proper disposal. Although waste sorting can always be improved, Grindeks employees take care of the environment.
What are the challenges we are facing as a company?
The company has many challenges. We can still improve and promote green thinking and environmental awareness. There are many ways to turn ideas into real-life projects and real action to reduce CO2 emissions or to recycle certain types of waste, which could be reused in the future. Everything is in our hands. It all starts with an idea and a desire to act. I call for energy and activity – send your initiatives to Grindeks Idea Bank, which is a great tool to put your ideas into the action.
Environmental requirements – how often do they change and can affect Grindeks operations?
Grindeks keeps pace with the times, so we follow environmental innovations every day and try to apply them and put them into practice. The Environmental Protection Act clearly defines the requirements that we, as a manufacturing company, must comply with. Both in Latvia and around the world, the topic of becoming "green" is very important, so must be able to implement innovations relatively quickly. Grindeks has clearly defined the goals of giving up paper, by organizing campaigns that encourage employees to understand and think in an environmentally friendly way, so I think that as a company we are ready to meet environmental requirements in the future as well.
What are the "green" trends in Latvia and globally. What should Grindeks expect in the future?
Green trends aim to reduce the negative impact on the environment by developing environmentally friendly products and replace non-renewable natural resources with renewable, or to increase the use of renewable resources. Already today, in many parts of the world, the road surface is "poured" from recycled plastic, which shows that new solutions are being actively sought. The use of existing resources is very welcomed these days. As a manufacturing company, we will definitely feel the influx of innovations and technology that is more energy efficient and environmentally friendly than the previous generation solutions.
Who does Grindeks cooperate with to recycle paper?
For several years now, Grindeks has been cooperating with Ligatne Paper to bring back life to once used paper, cardboard and packaging. It is important for the company to cooperate with partners who are "green" minded, and this is Ligatne's Paper, because they actively work with companies and schools, calling out for the transfer of waste paper. I hope that paper will become less and less common in our daily lives, finding alternatives to digital ones.