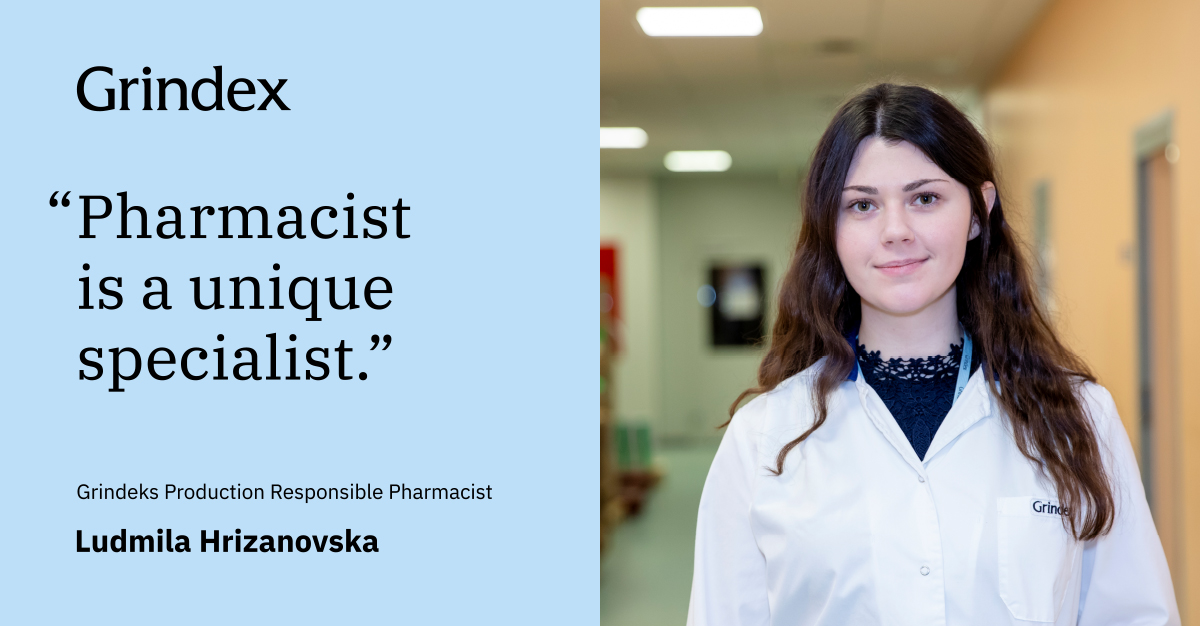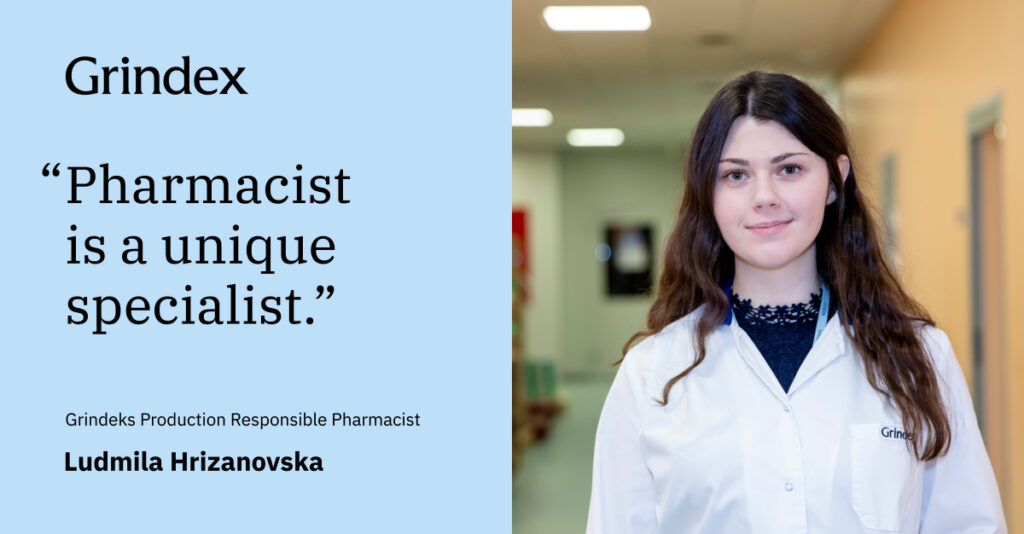 Grindeks Production Responsible Pharmacist Ludmila Hrizanovska has been working here for almost a year. In an interview with her, learn more about the pharmacist's work and day-to-day duties, cooperation with other units, as well as Grindeks' main advantages as an employer.
Tell me about your career at Grindeks! How long have you been working here?
I have been working at Grindeks from May 2022, but my relationship with Grindeks began in the fall of 2021, when I attended lectures and classes at the company as part of the curriculum. From March of last year, while working in another company and doing my studies, I did an internship in the Methods Development Group, where I developed my research work until the end of the year. This year I defended my work with the highest grade, for which I say a big thank you to my supervisor.
How did you decide to become part of the Grindeks team?
During my studies, I had the opportunity to evaluate the operation of the company from all sides, because during the internship I learned about almost all departments, which gave me the idea that Grindeks, as an industrial pharmacist, will have the greatest opportunities for self-improvement and growth in Latvia. Previously, I had worked in a small manufacturing company that produced only capsules, but in Grindeks I saw opportunities to learn the production of other dosage forms, so it didn't take long for me to apply when the company announced a vacancy for a pharmaceutical technologist
What is your education? How is the acquired knowledge useful in your work?
I have a pharmacist's degree, which I obtained at Riga Stradins University in 2021, but in February of this year, as an additional education, I also obtained the qualification of an industrial pharmacist. In my work, knowledge about the technology of pharmaceutical preparations, legislation, and quality control is useful, but knowledge about the pharmacological action of drugs is also clearly important, because it increases the sense of responsibility towards patients and also the employees of our structural unit.
There is still a stereotype in society that a pharmacist is only a pharmacist. Please dispel this myth!
A pharmacist is a unique specialist who has so many qualities useful to society and has so much valuable knowledge that if I had the chance to influence it, I would like to see more pharmacists not only in pharmaceutical manufacturing companies, but also in other industries related to health care, for example in public administration or in the manufacture of nutritional supplements. Imagine that the personality possesses both knowledge of natural sciences and health and treatment, technology, economics, human psychology, and to all this comes a high sense of responsibility, respect and care for others, order and healthy perfectionism, pedantry and honesty. Such a specialist cannot be called "only a pharmacist", because even behind the word "pharmacist" there is a huge amount of work performed on a daily basis by these health care specialists who are closest to the patient, who are always nearby, who do not have holidays during the National Holidays and who care about the health of each patient. Even if there are hundreds of individuals coming in during one working day, each with their own problems and character. According to my respected colleagues, I see that many of them would not change their work in the pharmacy for something else, often because they cannot imagine how Latvian patients will live if they no longer have access to one of the highly qualified pharmaceutical professionals. During my studies, I worked in a pharmacy for 4 years, and I will say that when I left, my heart also hurt because I would no longer be able to help someone and possibly even save a life. Although I know that the pharmacist side is still represented by excellent specialists who will always be available and able to act in the interests of patients.
With this long story, I want to emphasize that pharmacists are universal specialists in any medicine-related industry, because the skills and knowledge acquired during their studies allow them to work in a wide variety of jobs that pharmacists can perform professionally. Of course, there are many possible positions in a pharmaceutical production company, and here you can "experience first hand" all stages of the life cycle of a medicine - from the idea to the finished product. It is exciting, interesting and, most importantly, it is especially suitable for pharmacists, because no one else simply know so much about medicines.
You are the responsible pharmacist, what are the responsibilities that make up your daily work?
I have been representing the position of responsible pharmacist for a little longer than one month, so currently a large part of my daily life is occupied by tasks that I am doing for the first time. I have a lot to learn, which I am very happy about. I resolve quality issues, conduct staff training, participate in audits and work improvement within the framework of Good Manufacturing Practice. I also collaborate a lot with colleagues from other structural units to do the work.
Can you tell me an interesting occasion from your daily work?
There are a lot of regulations that must be followed in the manufacturing department of final dosage forms, so no one here calls the incidents interesting, because we produce a finished product that goes to the patient and has to meet the highest quality standards.
Why would you advise young people to link their career with pharmacy?
In principle, I already gave the answer to this question at the beginning of the interview, but I always say that people were sick, are sick and will be sick even more. The pharmaceutical industry is constantly growing and developing, creating new job opportunities not only in manufacturing and primary health care, but also in science. Pharmacists are highly competitive professionals who can find themselves in any area of this huge industry. Studying pharmacy is challenging, requires a lot of moral and physical investment, but the skills and knowledge gained are worth it and ultimately help to open many doors that will lie ahead in life.
What gives you the most satisfaction at work?
Most often, it is our team, some work done together or a successfully completed project, which can improve the daily life of employees, the quality of our products and the company's competitiveness in the market.
What are the advantages of Grindeks as an employer?
I appreciate the company's support in getting an education the most. I had the opportunity to combine work with studies, to develop research work in the Grindeks laboratory, and I know that if one day I decide to study more, it will always be supported. I also appreciate the stability that Grindeks provides, which is easy to see because many colleagues also have family members working at Grindeks.
How is cooperation with colleagues from other structural units going?
We have to cooperate a lot with other structural units, because only by working in a cohesive team can we guarantee that the medicines produced by Grindeks are safe, effective and, not least, affordable. The path from raw materials to finished products in a pharmacy or hospital is full of challenges, and we can get a positive result only if each employee involved in one of the stages behaves honestly towards their work and our common goal.
Name the main things that inspire you!
My biggest source of inspiration is the amazing people around me, with whom I like to travel, explore, taste, create, develop and build plans for the future.
What are your hobbies?
In any free moment, I go on a trip to the nearest or farthest places, which can be a trip to the center of Riga, to some new dining place that I absolutely have to try out, or a flight to a European country to get to know other culture and local life peculiarities, get on mountain or go for a 30 km walk around the city. I am fascinated not only by pharmaceuticals, but also by the brewing industry, so I try to get to know the world's breweries, the technologies and traditions they use.
5 quick questions. What do you prefer?
Tea or coffee?
Coffee
Sea or mountains?
Mountains
Book or movie?
Book
Morning or evening?
Morning
Ice skating or skiing?
Ice skating