Product Development Specialist, Liene Brezinska, has been working at Grindeks for more than 7 years, she is one of the best employees of 2021. Read more about what motivates Liene, what are Grindeks advantages in pharmaceutical industry, what new products are planned and much more in this story.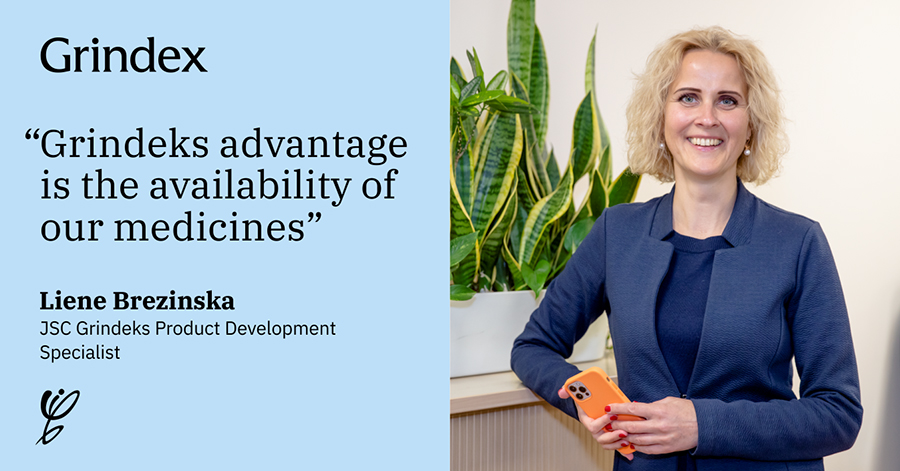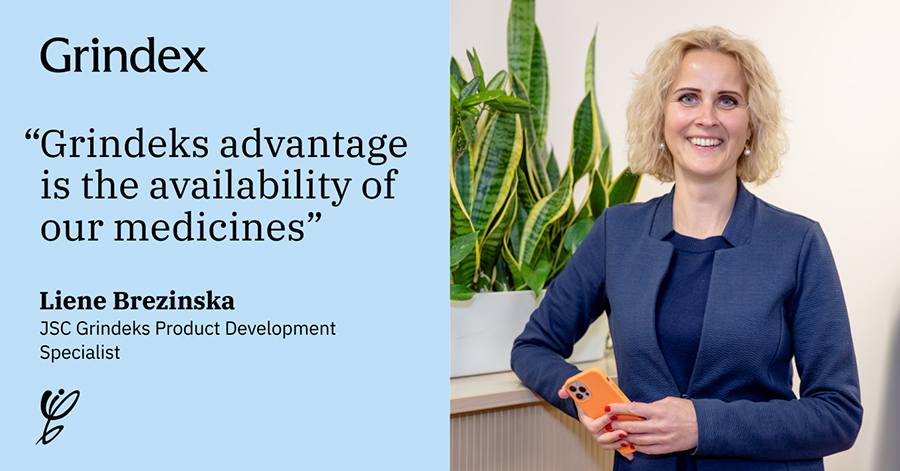 What motivates and inspires over the years?
There have been a variety of moments in these 7 years, and the motivation is certainly driven by the continuing interest in global processes, the latest trends and novelties in pharmaceuticals, including the business world. I am fascinated by the possibility of following global change, watching companies work and developing their strategies. This interest and curiosity can then be applied to your daily job responsibilities. It is also the basic drive to be part of Grindeks collective. Over the years, I have done a lot of different jobs that have also motivated development and taught me a lot of new information about pharmaceutical industry.
You're one of Grindeks best employees in 2021, what does that mean to you?
Of course I'm very happy and it's a high valuation, I'm grateful for this award, great pleasure in evaluating my contribution! I was very surprised when I received an e-mail asking for the award, because I'd forgotten about the existence of such a nomination. I will now personally be more challenged to prove myself to the nomination of the Professional Award, which is based on the realization of a complex projects, taking care of various challenges and the application of specific knowledge to be used in professional life.
Tell briefly what the usual day of the product development specialist consist of? What products are you responsible for?
Part of my day-to-day work involves addressing operational issues of product development projects, I am doing that while collaborating with other departments from that ask various questions that need to be resolved to make progress in different projects. However, most of the time is devoted to searching for and selecting medicines with high added value that could be transformed into a tangible project and to guide it towards approval and development. It is a large scale of literature and information research, analysis and systematization, looking for relations and possible solutions to increase the value of medicines, in order to finally get a tangible and realistic idea to turn it into a real project.
How is cooperation with colleagues from other departments?
Any communication and cooperation with colleagues has almost always been successful, which also provides good cooperation on the way forward. It is always good to hear valuable, justified and remarkable criticism, it enhances work and brings even better results. I am always open to communication and seeking a joint solution with other departments.
What have been the biggest challenges in the day-to-day work of last year, how have you managed to deal with them?
I am really pleased that we have developed a great teamwork with Chief Commercial Officer of Grindeks. I very much like different job challenges that haven't been in my job experience at the company. In carrying out these, I obtain a new knowledge and experience base that is not related to everyday basic work responsibilities, for example legal and business. These are also the challenges that I am very pleased about and that motivate me.
What are the main advantages of Grindeks products?
Grindeks advantage is the availability of our medicines. They can be purchased in pharmacies if the patient needs it, which is particularly important at a time when there are pandemic limits in both logistics and transportation. I am pleased that the range of medicines will be extended in the coming years and Grindeks products will be available to a much wider range of patients in various cases.
It's no secret that Grindeks is expanding its product portfolio, what new products are scheduled to be introduced in the near future?
We are currently developing a portfolio of new products for the treatment of type 2 diabetes, so medicines in this therapeutic group could be expected in the near future. Of course, there is also ongoing work on the rest of Grindeks strategic product lines, and they are supplemented with patent-free medicines.
You were also one of the graduates of Grindeks New Leaders School last year, tell me what that gave you?
It gave an excellent opportunity to refresh my knowledge and experience, which I acquired before I worked at Grindeks, because I was previously working in a municipality. The New Leaders School provided an opportunity to acquire new knowledge with other colleagues and to get more acquainted with colleagues through the practice sessions of leadership training. It was very, very valuable.
What new things are planned in 2022, what are the main targets?
I also have a birthday at the end of the year when I plan my new year of life, which also complies with every calendar year. I want a calmer daily life this year without abandoning the challenges and adventures. I do not set specific objectives, but I adapt to various situations, positive developments, and I am open to anything.
What do you do in spare time from work?
My hobby is to read books, relax in a calm way while indulging in various adventures. A real example – I was reading a book at the lake for 3 consecutive days on holidays, received an offer to jump with a parachute and said yes, or I agreed to be a volunteer for the emergency team, participating in the world motorcycle competition! I don't regret it for a moment, those are great feelings. In fact, it also is the same with work – to remain calm, but to accept challenges.
Your wish to everyone.
I wish not to get tired and find moments in the hum of everyday work, when to sit down and somehow listen to favourite song or watch a movie in the evening, or to stop with the car at the side of the road and see the sunset for a moment. Find such little small but joyful moments that bring happiness and emotions to give you more strength.