2022 has just begun. Ph.D Juris Hmelnickis , Chairman of the Board of Grindeks, looks back at what we achieved last year, tells the story of Grindeks Group's strengths in the global pharmaceutical context and improving job efficiency and productivity, he also gives his vision for 2022.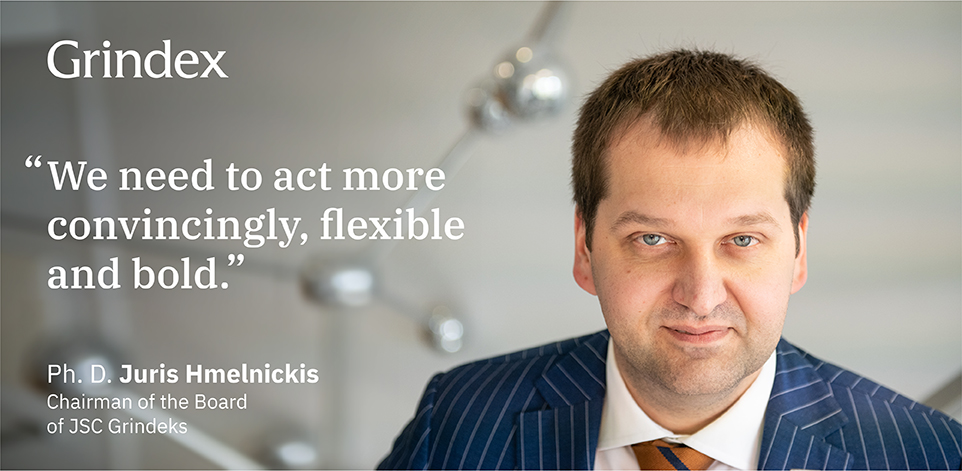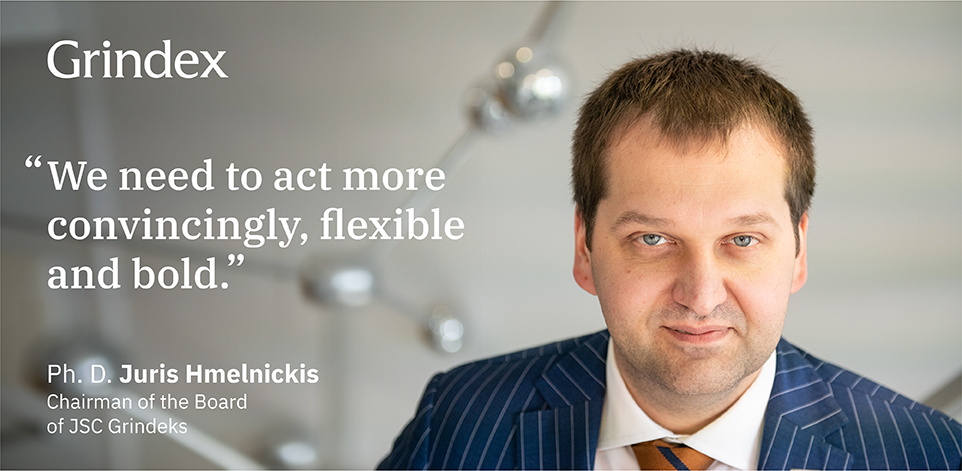 Looking back at 2021, what were the greatest Grindeks accomplishments?
We started 2021 with approving our strategy until 2025. This meant that the principles of action had to be reorganised. Company has always thought about expanding its product range and portfolio, but last year our approach and pace have changed and accelerated. We ended the year by filing 10 patent-free medicines to registration! It's a breakthrough that has never been done before at Grindeks! The company's departments have demonstrated that they are able to work together, in interaction, with a common purpose. For that, I say huge thanks to all my colleagues. Our patients will benefit from that, because our medicines will become even more available.
For the second year, we have been living under the constant limits of the Covid-19 pandemic. What is it that separates 2021 from 2020 in this context?
At the beginning of the global pandemic everything was unknown, countries closed their borders which affected supply of raw materials and intermediate products, which had a strong impact on fulfilling patient's needs. Producers with which we have consistently cooperated, including from China, India, Italy and Spain, were unable to meet their obligations due to the pandemic. We were looking for alternatives to purchase raw materials or materials for production. Of course, in response to various challenges, we made changes to production plans.
The pandemic did not stop our commitment to growth and develop, on the contrary, in 2021 we used our advantages, flexibility and made orientation to the patient's needs even more targeted.
We have consistently focused on the health and safety of employees in order to avoid the spread of the virus. Due to health measures, constant informing and very high vaccination rate, the number of Covid-19 cases is very low and hasn't had no effect on the business.
What are Grindeks advantages on the global pharmaceutical industry?
As I said, we are more flexible. In many countries our name is very recognizable. That is also an advantage. Our product range includes medicines that patients and health professionals prefer. We are also unique with our knowledge and experience in active pharmaceutical ingredients.
Compared to global players in the pharmaceutical industry, Grindeks is currently a small or medium-sized company, so we need to act more convincingly, flexible and bold. Can we do that? Yes, and this is confirmed by the dynamic growth in turnover of +30%. Our export is growing and our medicines are available in 100 countries around the World. It is a brilliant achievement in the company's 75th anniversary year. Certain indicators are still being compiled, but preliminary data are encouraging.
What are Grindeks big goals for 2022, as well as development plans for future years?
It is important that we continue to work and implement our strategy. The group's product range includes modern medicines for the treatment of cardiovascular, central nervous system, oncological diseases and diabetes, as well as medicines for the hospital segment. In parallel, we are examining new development opportunities and extending our specialisation. We have the potential and knowledge of dermatology, so our supply will grow in this area as well.
There are currently 64 new Grindeks and 42 new Kalceks products under development. The production of active pharmaceutical ingredients is also very important, which is also one of the group's significant advantages in the pharmaceutical industry. The company currently produces 25 active pharmaceutical ingredients. This segment increases independence from raw material producers, so the company develops 36 new active pharmaceutical ingredients.
We are expanding our geographical coverage in a global sense. Our strategic markets will be the EU, the US, Japan, South Korea, Australia, Canada and New Zealand.
At what stage is the construction of the new Grindeks Innovation Centre in Riga, Asotes street 12?
The area has already been cleaned up. Design work has been started already. The new Grindeks Innovation Centre will be built in several phases. If the building project gets approved as planned, construction could be started in 2023.
What will this project give Grindeks group in the context of the World?
This will be the largest pharmaceutical innovation centre in the Baltic region with energy-efficient and automated solutions. It will cover manufacturing processes for active pharmaceutical ingredients, it will have the most advanced technological equipment that will ensure the production of new, innovative products in Latvia. Most importantly, sterile pharmaceutical forms will be introduced, which are currently not produced by Grindeks in Latvia – ampoules, vials, lyophilised vials, eye drops and antibiotics.
In 2021, Grindeks began to gradually introduce green thinking into a company, what else is planned in this area?
It is a permanent and gradual demonstration of the company's sustainability. Green thinking is not a one-day or annual project and includes sustainable use of resources – creating an energy-efficient environment, saving electricity, introducing environmentally friendly solutions for both sorting and reducing waste. By 2025, Grindeks has decided to fully abandon the circulation of paper documents in the company, demonstrating his commitment to environmental protection. We'll do it!
What's your advice how to simply improve job efficiency and productivity in 2022?
The various actions, processes and approaches are changing and are becoming different. What was done several years ago suddenly turns out to be not the most efficient and productive way. We repeat the same thing and it becomes like a routine, but is that the best way? I call on everyone to think about how the tasks could be simplified and not doing things that are not necessary.
Your wish to everyone for 2022.
I wish everyone in life to see the opportunities that the current circumstances offer us. There will be challenges and opportunities ahead of us. Everything we do is in our own hands. Be creative and move safely towards your goal.